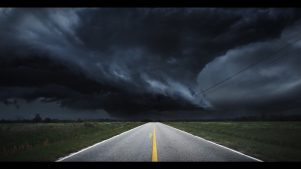 A dramatic supercell for a commercial shot and aired in Georgia. Worked with Dan Frantz (Director).
Part of my 2016 thesis project at Savannah College of Art and Design. I created the background and painted 2D textures to enhance the look of the 3D island and buildings made by the team. I was also responsible for designing the shot and lighting it in CG. Worked with Clint Rea and Alex Shilt (Directors), Jason Koh.
Another surrealist environment created for my thesis project at SCAD. Based on a concept sketch I made to inform the look and composition, I sculpted the pillars and created the background matte painting. Worked with Clint Rea and Alex Shilt (Directors), Daniel Soo, John Pagan.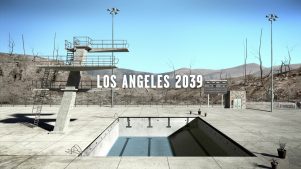 A 6 second film about the dangers of global warming aired at Sundance in 2017. I created the arid version of LA and lit and rendered the swimming pool and water. Worked with Andres Eguiguren (3D Lead).
For this spot featuring Lebron James I made the matte painting of the surroundings of the stadium. I also created several 3D assets, such as trees, light poles and benches, to populate the scene. The team at the Mill further brought the shot to life with crowds and cars. Worked with Emily Meger (3D Supervisor), Incheol Jeong, Cole Clark.
A stylized painting made for the short film The Artist's Awakening. The house was built practically by the director while the background is a 2D composite. The brief called for a Wes Anderson aesthetic and exaggerated parallax to make it seem like a miniature. Worked with Daniel Mejia (Director).